Planned Giving
You can create a lasting legacy for future Girl Scouts in our community through a planned gift. Including a bequest in your estate ensures the next generation of girls can enjoy Girl Scouting just as much as you have! Gifts from your will can come in all shapes and sizes, and you do not need to leave a large gift to make a big difference. Large or small, the most meaningful gifts come from people like you, who deeply care about the work we are doing and want to ensure it continues well into the future.
Providing for Girl Scouts of WNY in your will or trust won't cost you a penny during your lifetime. You have complete control over your assets, and can change your gift at any time.
Allow us to hold you in the highest honor, by letting us know if you have left Girl Scouts a planned gift, and become a member of the Juliette Gordon Low Society. This society was established to thank and honor those who, just like Juliette, choose to make Girl Scouts part of their legacy.
If you're interested in including Girl Scouts of Western New York in your estate plans, please fill out the Declaration of Intent below. If you have any questions, please contact our Major Gifts Manager Heather Bailey.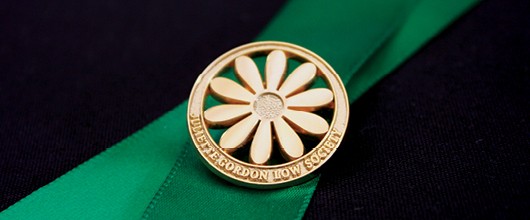 Juliette Gordon Low Society Members:
We are honored to be included in the estate plans of the following JGL members: 
Anonymous (2)
Erik and Eva Andersen Girl Scout Movement-wide Challenge Planned Gift
Nicole L. Andrews
Dianne Belk & Lawrence Calder Girl Scout Movement-wide Challenge Planned Gift
Diane Bockrath
Mary Lou Britton
Jennifer L. Brooks
Linda Bumgardner
Katherine A. Campbell
Lettie J. Chilson
Susan and Clayton Cloen
Wendy S. Cohen
Judith A. Cranston
Laura DeConinck
Donna M. Dolce
Cynthia J. Erickson
Kara Fraser
Joan H. Frazier
Judy G. Gardner
Patricia A. Garnjost
Lisa Goodell
Nancy S. Grimes
Katelyn R. Grodecki
Sally A. Guthrie
Marian L. Herz
Eileen Hettich
Jerilyn J. Hickey, CFRE
Jean E. Hitchcock
Suzanne K. Isgrigg
Diana W. Kubick
Karen Lundgard
Joelle M. Maurer
Lanette McGovern
Jean McGowan
Cheryl Messore
Dawn Myers
Joanne Nelson
Samantha Nichols
Lynnette Haley O'Stewart, Ph.D.
Judith Penzotti
Paula Pickett
Georgiana Prince
Patricia Raab
Heather E. Bailey
Beverley Rhodes
Patrice Sampson-Bouchard
Ann L. Sartwell
Jennifer Schlick
Lisa S. Schreiner Berta
Laura Schulitz
Michele and Paul Smith
Bette Stonebraker
Sue C. Sweet
Elizabeth W. Thorndike
Lori M. Valenti
Donna Vanstrom
Alison J. Wilcox-Lanfear and David Lanfear
Rose Anne Woodard
A legacy gift from these JGL members is a lasting tribute to their belief and love of Girl Scouts: 
Josephine Amish*
Betty Baker Anderson*
Margaret Anderson*
Harry J. Beu Trust
May C. Carroll*
Warren J. Chase Trust
Emerson Colopy*
George Corby*
Irene Hower Corby*
Peter C. Cornell Trust
Thomas and Mary E. Driesel*
Alice V. Dutcher*
Helen Creswell Ellwanger*
Betsy Phillips Fisher*
Adeline E. Fracassi*
William Hodge*
Ruth C. Hoover*
John Wylie Jones*
Corinne B. Loudon*
Martha L. MacAskill*
Virginia D. Martin*
Jean M. Mousaw*
Constance M. Neth
Barbara H. Panasiewicz*
Anabelle Piper*
Thelma K. Rawcliffe*
Douglas L. Rehlaender Trust
Margaret Ritchie IRR Trust
Marguerite M. Rittenhouse*
Margaret Shannon*
Arthur E. Shrubsall*
Floyd D. Slater*
Dorothy E. Slocum*
Alice W. St. Clair*
Margaret Woodbury Strong*
Elizabeth C. Todd*
James H. Van Arsdale, III*
TUW R Wells Harrison Memorial
Dorothy M. Young*
* = Deceased
We recommend consulting with your attorney or financial advisor. You may find this sample language helpful:
Girl Scouts of WNY is to receive the sum of [specific amount](or [percentage] percent of the remainder of my estate). The bequest is unrestricted, and the board or other governing body may use and expand the bequest in any manner it deems appropriate. Tax ID: 16-0743096.
If you have already made a planned gift to Girl Scouts of WNY or would like to request more information, let us know! Please contact Heather Bailey at 1-888-837-6410 x. 6068 or heather.bailey@gswny.org.
For more online information, head to https://legacy.girlscouts.org/
The above information is not intended as legal, tax, or investment advice, it is recommended that prospective donors consult with their own tax or legal advisors prior to making a planned gift.