How to Join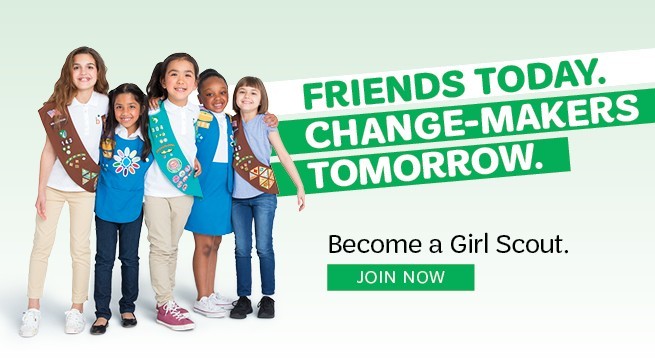 When you unleash your inner G.I.R.L., you can accomplish anything!
At Girl Scouts, the next opportunity to stand up, speak up, and take the lead is never far away. With us, you'll discover the G.I.R.L. (Go-getter, Innovator, Risk-Taker, Leader)™ in you, and watch her shine, again and again.
Will you find a sustainable solution to a problem in your community? Will you explore the great outdoors? Build a robot? Learn to code? Conduct an experiment?
With us, the possibilities are truly endless. Discover all you can be and everything you can accomplish when you have the right tools and a safe space to shine—and work together to change the world. 
So what are you waiting for?

Click the Join Today button below to complete registration, view our Opportunity Catalog to select a troop for you or your girl, and purchase your membership.
There are two types of troops in the Opportunity Catalog:
Existing troops with openings for new girls
"Forming Troops" which are looking for new leaders and girls
Put yourself and/or your girl in one troop of your choice. (Find out more about starting a new troop here). 
Need help? We'll provide support along the way.
Need to know more to help you decide what's right for you? Check out all the different ways to have fun at Girl Scouts.
Click here to view the Sign Up Event Near Me Finder.
---
Current Girls and Adults Renew
   

Membership registration tips
Please use the same name and email address that you have submitted to Girl Scouts of Western New York in the past, either as a member or as a parent/guardian (if applicable). If you are having any trouble, contact our help desk at customercare@gswny.org. You can also call toll-free for customer service at 1.888.837.6410.

 Check out these great membership rewards: SAGE Tuition Rewards.