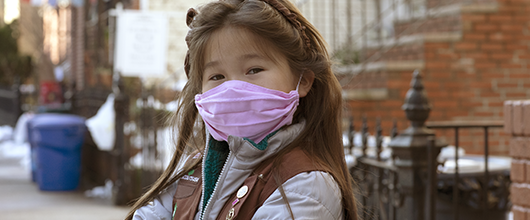 Renew Your Membership—Together, We've Got This
Strength, resilience, togetherness, and the support of community—that's what Girl Scouts is all about. So in this uncertain world, you can count on one thing for sure: today, tomorrow, together, we are on your team.
When you stick with Girl Scouts, you're not just giving your girl something to do, you're giving her someone to be. The bravest, boldest, best version of herself. The version of herself that walks with her head a bit higher and acts with confidence.

And as she grows, we'll grow with her, guiding her through life's ups and downs, supporting her strengths, and showing her new and exciting paths to take.
Celebrate your story in our Becoming Me program, inspired by former First Lady Michelle Obama!
As we celebrate your strength, we want you to celebrate how far your girl has come this year and how far she'll continue to go. Check out our new Becoming Me program, through which girls can explore their stories and who they can become, earn badges, and even attend a special members-only virtual event on May 6 with Mrs. Obama! Kick off a new year of Girl Scouting and save your spot by April 30.
Renewal Instructions

Membership Renewal Instructions:

Video Renewal Instructions for Becoming Me Event:

Spring Renewal 2021-22 Incentives

Download the Spring Renewal Incentives Flyer

Here's a breakdown of all our incentives for Ultimate Spring Renewal, now through April 30! Check out the grid below for Spring Reneal Incentives through May 31.

Renew by 4/14 to be entered to win one of those adorable cookie-inspired KSwiss sneakers – 5 girl and 5 co-leader winners to be drawn! 
Co-leaders and girls who renew by 4/30 will earn a GSWNY lunch sack.   
Troops who renew 90% of girls + 2 co-leaders by 4/30 will earn a $20 GSWNY credit for shop, program or property.
Girls, co-leaders and SUMs who renew by 5/31 will earn Sage Tuition Reward points.
Join us for a new program launching May 6, with a members-only virtual event featuring former First Lady of the United States Michelle Obama.

Spring Renewal 2021 Incentive Grid

SAGE Scholar Tuition Rewards

Please note: our signature Renewal perk, SAGE Scholar Tuition Rewards points, will be earned by girls, co-leaders and service unit managers who renew by May 31. Check out more details on our SAGE Page.  Note that Co-Leader/SUM volunteers can no longer earn double points for both positions.

Trouble Logging In?

Q: Why isn't my username working?
A: Your username is typically your email address. If you have more than one email address, try each. You can also use the "Forgot Your Password?" link to send a reset email to your email address. If you're still having trouble, contact your council's Customer Care team.

Q: Why aren't I getting the password reset emails?
A: The password reset emails come from gsusacustomercare@girlscouts.org, so please make sure it's added to your safe senders list. If you requested the reset email before marking our email address as safe, check your spam folder. If you're still not receiving the email, contact your council's Customer Care team to verify that your username/email address is correct.

Q: How do I reset my password when I no longer have access to the email address associated with my account?
A: Your council's Customer Care team can easily change your username/email address without requiring you to recreate your account.

Q: Why can't I see my family when I log in?
A: There are a couple reasons this could happen:

Another adult family member may be listed as the preferred contact on the account. That person must log in to renew. Contact your council's Customer Care team if you'd like to be listed as your household's preferred contact.
You may have a second or duplicate account with a different email address. Try a different username. If that works, be sure to contact your council's Customer Care team to merge the two accounts into one.

Q: Why can't I see my troop(s) when I log in?
A: There are several reasons this could happen:

Troops are listed on a separate tab from your family. If you have more than one troop, look for the pull-down menu to change between them.
Check your member profile to make sure you're listed as a volunteer in the troop.
Not all troop volunteers can access the troop tab. Check with your council to see which volunteer roles they allow to access the tab.
If your background check has expired, you may lose access until it is up-to-date.

Your council's Customer Care team can provide additional support.
Bridging Ceremonies
And guess what? When you sign up for another year of Girl Scouting and are moving to the next level of Girl Scouts, you'll get to experience the joy of bridging! Bridging involves a special ceremony that highlights and celebrates all the amazing things you've accomplished this year, as you prepare to take your next big step with Girl Scouts. It's a perfect time to reflect on the past and look forward to a future full of new possibilities, new experiences, new badges and Journeys, new skills to learn, and new trails to blaze!
Bridging ceremonies will look different this year, which is why we've created a Virtual Bridging Guide to help you.
See how Girl Scouts earn their bridging awards (PDF): 
Daisy | Brownie | Junior | Cadette | Senior | Ambassador
Bridging awards mark a girl's transition from one leadership level to the next. An exciting time in a Girl Scout's life, the earning of the award and completion of the activities are designed to emphasize the continuity of one Girl Scout program and to welcome girls to an anticipated "next level."
For Bridging Kits, visit your WNY Shop or check out our online store!